I can just feel my
beloved late grandmother
rolling her blue-shadowed eyes in disapproval from Above as I type this post about the "M word." However, inspired by the current economic climes as well as recent posts by some of our favorite blogettes, I share with you a few helpful, novice-level reads that have helped me get started on the path to fiscal responsibility. On that note, perhaps I should also be sharing these with the federal government, but that would involve talking about politics (another Grandmother no-no), so let's press on. I'll keep things as vague and numbers-free as possible so as to not affront any delicate sensibilities.
****Important, Special Disclaimer:
I am not, nor will I ever be, a professional in the area of finance, numbers, math, fiscal responsibility, or any or all of the above. On the contrary, I'd much prefer to be toodling around the "
Beauty Icon
" feature I found at Style.com today, complete with features on
Carolina
and
Grace
and
CZ
, amongst other lovelies, than talking about this. Really, go take a peek, I understand, then come back.
I also am very apt to not practice that which I preach, as Anonymous Husband would hasten to mention; in an act of unfortunate timing, I walked in the door tonight with two perhaps not
entirely
necessary purchases of mine while the AH was home, so . . . in my defense, I'm trying. That is all.****
For those of you still with me . . . in a galaxy not very far, far away, I was once a poor graduate student, worried only about affording
going-out clothes
, um, textbooks. So although I've now been married and professional for a few years, and have been fortunate enough to be able to both save and spend, it has taken me a while to get into the swing of the
regular
savings thing. Add in an unexpected move or two, and Pretty HQ has just this year set about to getting a wealth-building Plan with a capital "P" together.
Lest I give you the wrong idea, by wealth building I'm not
only
envisioning being able to buy Hermes bags at will. I'm of course talking about the Unicorns-and-Rainbows personal stuff like sending the future Anonymous Offspring to college and anticipating a one-income household for a time and financially weathering a health crisis and donating to charities of our choosing.
And
buying designer bags at will.
So to get in the right initial mindset, I re-read that personal finance chesnut, "
The Millionaire Next Door
". Nothing particularly new here - the central theme being that actual wealthy people (vs. those who merely appear to be so) generally don't do the Jones Keepy-Uppy thing - but the author specifically addresses some spendy practices endemic to professionals like moi and the AH. This book is a good starting point, particularly for those ((shamefacedly raising hand here)) susceptible to Jones-like behaviors.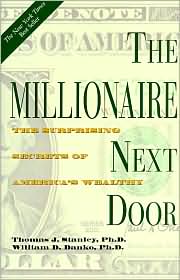 (credit: Barnes & Noble)

For more nuts-and-bolts advice, in addition to consulting with an actual, ya know, financial planner with the AH, I picked up this one from Suze Orman:
(credit: Barnes & Noble)

Try to overlook the supremely tragic hair and glazed over look of the author . . .


Some of "Young, Fabulous & Broke" is too elementary for those of us a few years out of school and, well, not broke, but it's a good review of those basics as well an an explanation of the more advanced things like picking no-load mutual funds (by saying things like "no-load mutual fund", I kinda sound like I know what I'm talking about, no?) or how and when to buy life insurance. College kids & recent grads, or those of us struggling to understand "no load mutual funds", this is a valuable read.
Beyond this basic reading, we've taken to the web to scope out (free, but for the price of an internet connection!) financial advice.
MSN Money
has a number of easy to use calculators and helpful articles, including the simply understood and implemented "
60% Solution
", around which I've loosely based my own household budget. I use these percentages as a starting point and tweaked as necessary; for example, I believe in keeping committed expenses lower than 60% and throwing that extra towards various savings goals, so I've fit this to suit the Pretty life accordingly. The Pretty household is notoriously gun-shy about things like spreadsheets, but we have a basic practice of keeping these %s and numbers in mind.
Entertaining personal finance blogs abound, my favorite new find being
My Open Wallet
(hope she doesn't mind the random lurker link - hi, love your work!) in which a 30-something Noo Yawker takes a funny, frank, and incredibly practical look at her personal finances and spending/saving in general.
Lovelies, what are YOU doing to get your undoubtedly cute pocketbooks in order? Any good books or sites to recommend? Are you going to force me to do loathsome "Quicken" spreadsheets? Will you please forgive me for talking about the "M word"?