. . . as I briefly mentioned yesterday, I've come to the crushing realization that I'm in a fashion rut. Not crushing on the level, of, say,
Britney once again appearing at the VMAs
, despite our urgent pleas for her to just go hide out for five minutes at Sunshine Meadows or whatever the rehab of the week is. In any event,
sitting in a room of 500 Impossible Girls
, wearing impossibly elegant clothes, can inspire a clothing crisis in any girl, but in this case, my suspicion probably has merit.
As a southern Californian by heritage, I feel it is both my duty and privilege to spread designer jeans and sunglasses throughout our great nation. This is by no means to say we have a monopoly on the situation, but just that in my homeland, a good pair of each will get you through most, if not all, social situations.
I've slowly realized that in my particular slice of South Central Texas, this credo won't always fly. While I both live and work in casual towns where Wranglers (well, at least where we work it does - for reals!) suffice, my beloved Citizen jeans Simply Won't Do at a shower or most Junior League meetings. Nonetheless, I find my closet full of jeans as well as those summer dresses
the Etiquette Grrls
demand I put away despite the current, stupendous 95 degree weather. Fall-appropriate yet lightweight, dressy-casual dresses and tasteful, non-sandal shoes are clearly in order.
Faced with this uber-pressing dilemma while dealing with a limited fashion budget for this month - otherwise we'd just load up on DVF goodies like
this
- I hit the stores today and discovered some interesting parallels for fall fashion. Turns out some budget favorites, like le Target and Gap, are cleverly knocking off design favorites left and right - however did we miss this memo? Let's take a look at the hard evidence:
- In search of dressy-casual wear that can go from the office to the evening Junio
r
League meeting, I was inspired by Kate's finds to go a-hunting at Ann Taylor LOFT, which is not a normal favorite, and was pleasantly surprised:
(credit: Ann Taylor LOFT)



Love the flattering cowl-neck, waist-emphasizing wide belt, and a-line skirt. We're a "Charlotte" both in body type and temperament - ok, we only wish we were that sweet - so this one is a likely purchase.



But look at this from Le Target:




(credit: Target)
Tough to see from this picture, but this also has a nice cowl-neck and fun, prep pattern - for $39.99! Too heavy for the still-hot Texas weather, but on my watch-list.


The plot thickens with shoewear, where the J Crew / Target faceoff begins in earnest. Observe the J Crew lovelies we've been lusting after:
(credit: J Crew)

$128 at J Crew, but from what we hear, their ordering process of late is so Un-Pretty that we shouldn't even bother (can anyone confirm or deny this?). We like the trendy metallic take on the classic silhouette, but are scared off enough to keep looking . . .


So check out this Le Target pick for $24.99:
(credit: Target)
And these too-lovely ballet flats - the catalog description even invokes "The Preppy Handbook" author in the description . . .
if you haven't noticed already, we have a bit of a thing for gratuitous bows here at the Pretty:

(credit: J Crew)
And now let's look at the Gap edition, for $39.50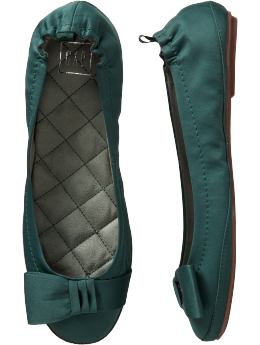 (credit: Gap)



Finally, let's review these spectator Mary Jane pumps, which have caused my own AmEx no small amount of eager anticipation - we're talking that random Mac guy getting to date Drew Barrymore level of how-could-this-possibly-be-happening-to-me excitement:


(credit: J Crew)
Lovely, and Louboutin knockoff themselves, but $228. So let's see the Target alternatives:
(credit: Target)
(credit: Target)
OK, so these aren't identical, but I love the two-tone and t-strap silhouette. And also not identical, but me likey these two anyways:
(credit: Target)
(credit: Target)
You'll have to take our word for this, but the latter of these two are much more luxe-looking in person. This is making them look oddly shiny and more multi-colored (vs. the two-toned spectator norm) than they appear in real life.
In our other perambulations around the interwebs, we stumbled across a few other classic, budget-reasonable deals at Martin + Osa, a store we've heard much ado about but not visited ourselves, as well as at Bluefly:
(credit: HRH Tory Burch at Bluefly)



This Tory lovely also has a fun, mod zipper feature in the back, something we also noticed on the Target dress above:
Readers, any budget friendly picks I've missed? What Would Fantasy GBF Tim Gunn Do? I'd pretend this wasn't urgent, but we do have a function we'd like to be dressed for next week . . .