It is not a proud day here at the Pretty. Despite prior displays of self-restraint, and kind offers from friends to just loan it to us already, we succumbed. Yes, it was today during our
daily
weekly Target visit when we decided we just could not survive one more hot minute sans: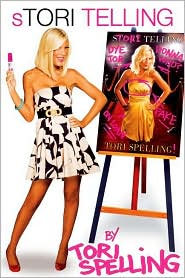 (credit: Barnes & Noble)
In our defense - and on the off chance you've forgiven us and are still reading - we offer you the following justifications for said purchase, all of which enjoy the added bonus of having just been declared null and void by a certain Anonymous Husband:
It's Monday.
We're hereby playing the Hormone Card; see

our

FP post - if you dare.
It was, like,

totally

fate. There we were, standing in an interminable line behind the Check Writing Coupon Lady (more power to you coupon types, but we admit to feeling rather unladylike urges towards those who not only write checks - checks? - in a checkout line, but wait until they're at the counter to start filling them out), when lo . . . where was I going with this again . . .

Oh, yes - so there I was waiting in the Target line that would not end, when an express lane opened, cashiered by a 30-something lady who understood our secret shame. Surely this was meant to be!
We have a difficult job where we read numbingly dull complicated stuff all day, so we generally like a bit of escapism and less syllables in our leisure reading.


Um . . .

This purchase scratched the buying itch we'd had thanks to the latest J. Crew catalog, to the tune of the approximately $5,467,892.67 extra the JC Preppy purchase would involve. Not that we aren't going to order 3/4 of the Fall catalog, but we've bought ourselves another day to think about it!

Ah . . .

Lovelies, the moral of
this tale is that for the sake of both self-respect and marital harmony, we'll be needing to send this tome along as soon as we're done - which should be sometime tomorrow. 100% inspired by that Mom with the Mostest,
One Fabulous Mom
, and her recent Tori giveaway, we'll also give this one away. Just leave the Pretty the most patently false, over-the-top compliment you can conjure in the comments, and we'll select the most absurd one as the lucky winner. Because we may have lost our dignity today, but not our knack for narcissistic self-promotion . . .
Smootches,